News
The Analysis of Jiang Wei
2015-08-21 06:47:10
Jiang Wei's max HP is 5286, which ranks No.3 with the exception of the unparalleled 7-Star heroes. His DPS of 580 ranks No.2, a little lower than Ma Chao. Such Attributes make Jiang Wei a wonderful hero, good at both attack and defense.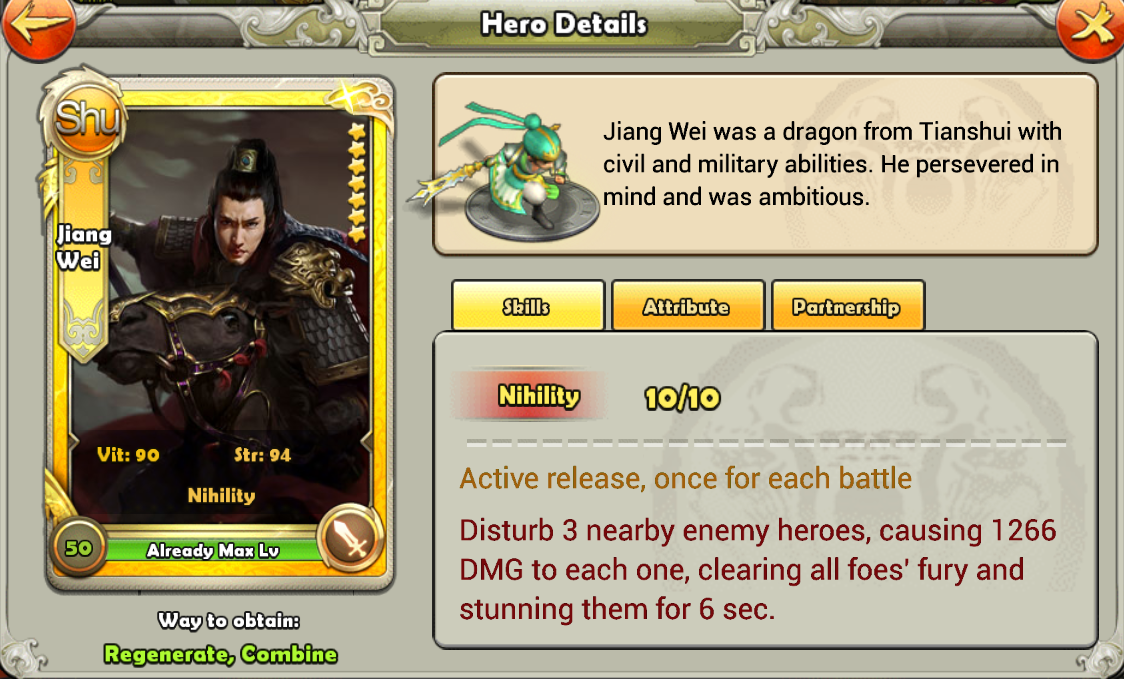 Attack
With the exception of the unparalleled 7-Star heroes, Jiang Wei is the only 7-Star hero, whose skill focuses on enemy heroes. It means Jiang Wei has important strategy function in a battle. His skill is that disturb 3 nearby enemy heroes, causing 1266 Damage to each one, clearing their fury and stunning them for 6 sec. Is it cool? Once the heroes are hit, they are useless during the stunning time and we can take advantage of this. A max level of Jiang Wei can deal 1266 damage, which can make most 7-Star Int heroes having half life left. Besides, Jiang Wei works as a melee attacker having high HP, his normal attack is also great. His DPS of 580 allows him to wipe out a building with low HP for each attack. On a battle, we find out the powerful enemy heroes. Then comes Jiang Wei' time. Jiang Wei's skill can make us fend off passive heroes' first wave of attack and stun them, and offer us an opportunity to kill the enemy heroes.
Defense
As a hero having active skill, it is his good stats which makes him also a good defender. His 5826 HP means even a powerful hero like Jia Xu cannot kill him by releasing his skill 2 times. While his DPS of 580 means he can kill an enemy hero for 3 or 4 attacks.